Thank You! Thank you! Words can not express how awesome you all are and were to me during my pregnancy. I was already blessed with my son Jordan and daughter Jakhaia, but then I found out I was due an additional two bundles of joy. My thoughts and mind went into overdrive and I could not figure what direction and way to go.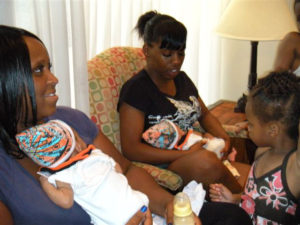 However, once I came to your office and talked with someone, your guidance and counseling helped me make it through. You helped me so very much in getting ready for the boys, thank you doesn't seem enough. At the time, the thought of me changing one diaper scared me – two was just too overwhelming.
We appreciate the baby shower that was given as well as all of the many gifts that were bestowed upon us during this time. Jahlyn weighed 6 lbs and 14 ozs and Jahdyn weighed 6 lbs and 7 ozs.  Both arrived on April 14th, just before 5pm. The boys are doing great! One is a little quiet and the other makes a little outspoken. I have made the adjustment to always be prepared with two bottles instead of one.
I could not have made the changes as well as I did without the Lord and the precious angels of the Downtown Pregnancy Center to help guide me along the way. Once again, thank you so very much for making a difference in the lives of myself as well as the twin boys Jahlyn and Jahdyn, along with Jordan and Jakhaia, who have become good helpers.
We take our hats off to wish you all of God's blessings as you shape and mentor other young women of this day and time.